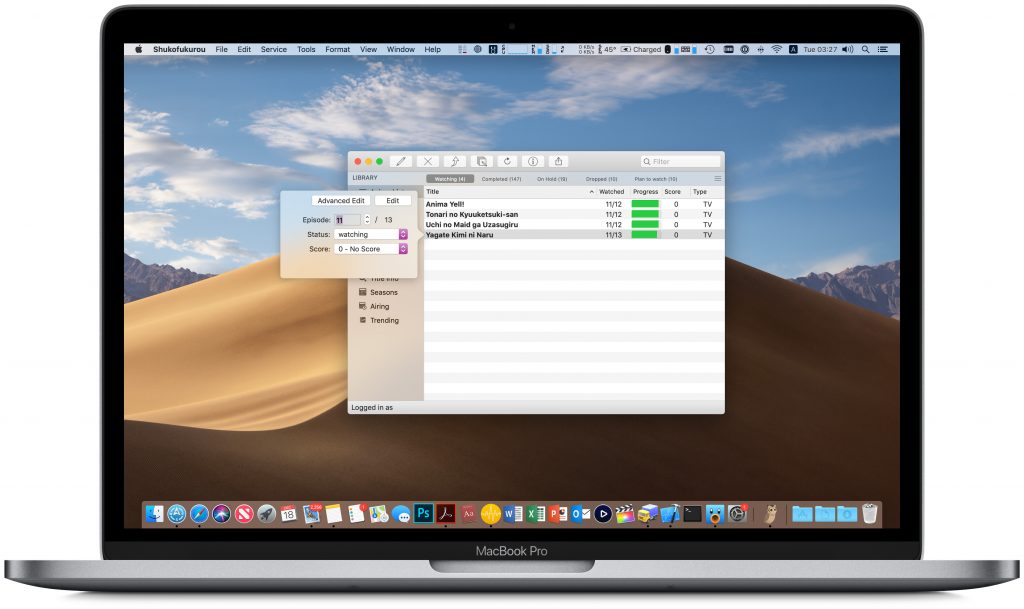 Shukofukurou 3.2, a feature release is now released and contains a bunch of new features seen in the iOS release of Shukofukurou. This brings a redesigned person browser that allows users to search for characters and staff on AniList like you can in the iOS version. Also, Airing Notifications, a Trending View, and a redesigned Season Browser has been added.
Person Browser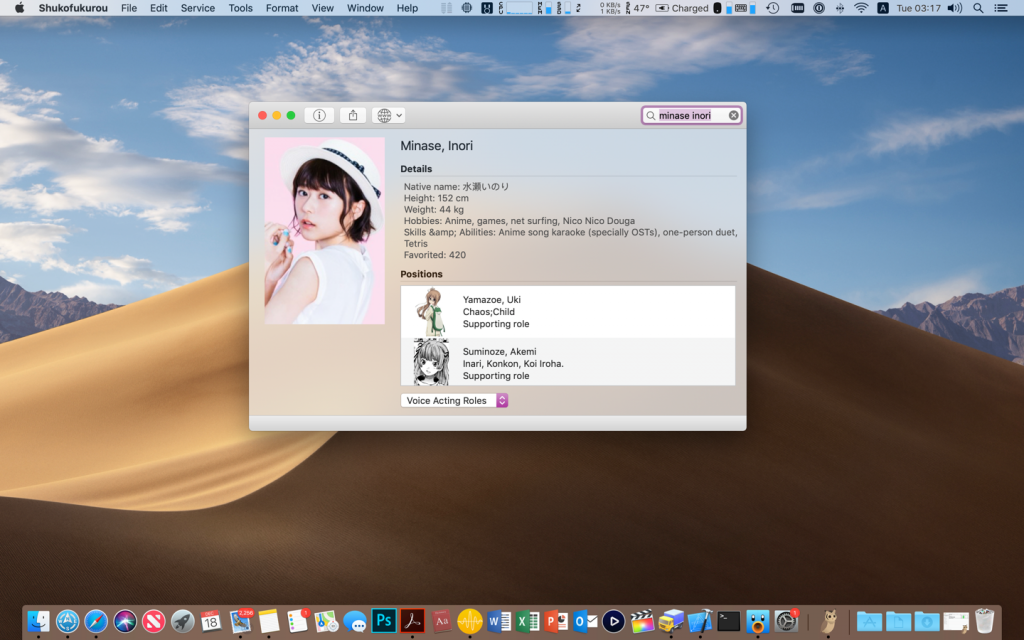 In the past, the Person Browser only showed characters and staff associated to a title. You couldn't browse detailed character information nor search for other characters or staff members. The iOS release has the ability to search for characters and staff members, which wasn't in the Mac version. The ability to search for characters and staff is now added to the Mac version. Now, you can see more detailed information about characters, including Anime and Manga appearances in addition to searching for them.
Redesigned Season Browser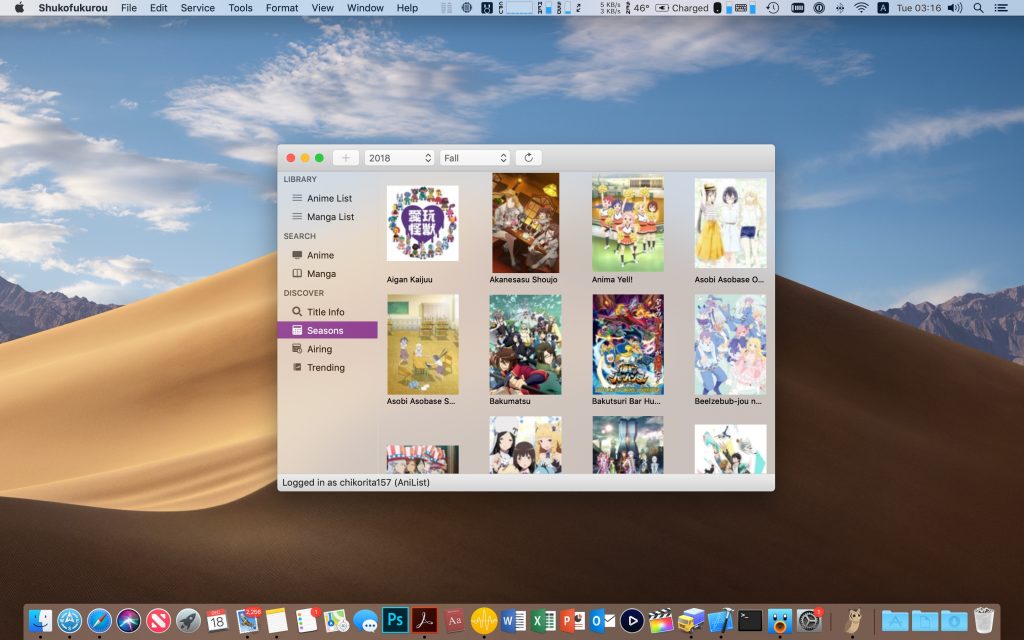 The Season Browser is now redesigned to look like the iOS version. Instead of being a table view of titles that air during a given season, it will now show the title and the poster image. This is meant to match how the titles appear in the iOS version. Also, the Season Browser will use season data from the service you are currently using. So, if you are using Kitsu, you will view season data from that service, leading to less error messages that a title can't be found on the service.
Trending View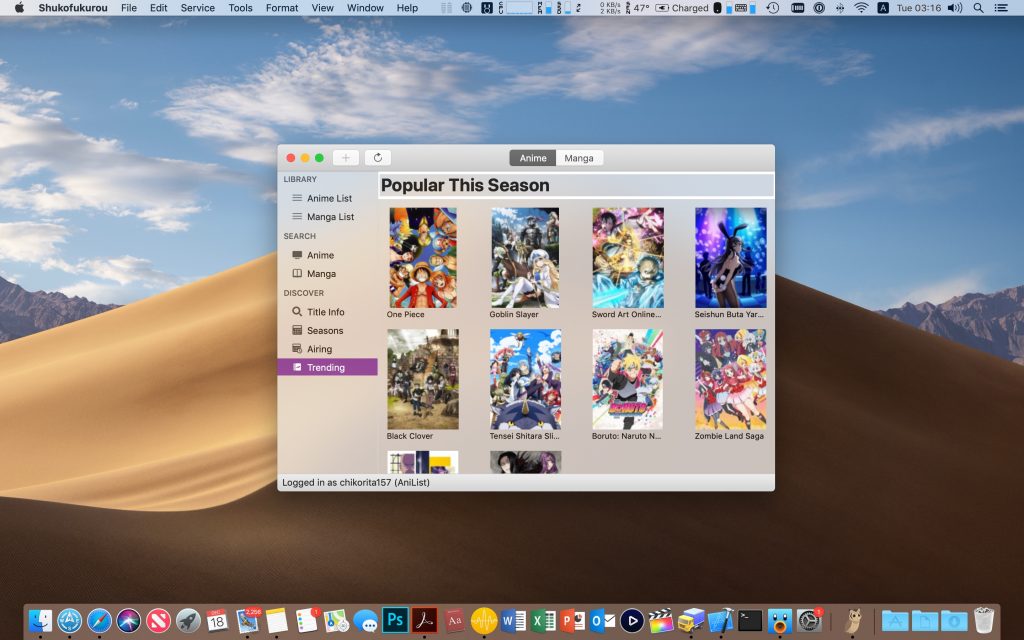 Like with the iOS release, the macOS version now has the ability to view anime and manga titles that are popular, highest rated, just added and trending. Unlike the iOS version, you can add titles from the trending view to your list.
Airing Notifications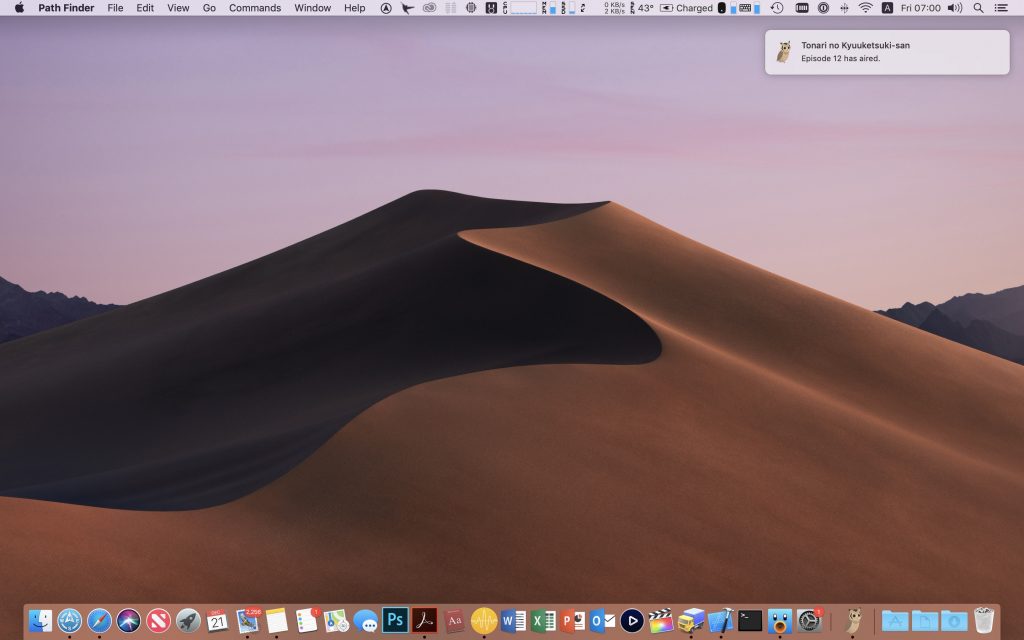 Lastly, Airing Notifications finally makes it to the macOS version. Currently, none of the desktop anime tracking software has this feature. This feature allows you to receive notifications of currently airing titles that are on your watching and plan to watch lists. Like with the iOS version, you can enable or disable notifications on a per title basis and you can select which list to base the notifications off of.
Note that not all titles on Kitsu can receive notifications as we are using airing data from AniList.
You can now upgrade to this release by checking for updates if you using the non-AppStore release or updating it from the Mac App Store. The app is free, but the Person Browser and Air Notifications requires a donation license in order to use these features. A donation license or downloading from the Mac App Store cost $4.99, which goes towards future development of our apps.
This release now requires macOS 10.11 El Capitan or later.
Don't have Shukofukurou yet? Download it from the product page. Source code for this release is available here.
The change log is below.
New Features
Added Airing Notifications
Added Episode Details (Kitsu)
Added Trending Section
Added ability to cache title information for faster loading and offline viewing
Redesigned Person Browser with ability to search for staff and characters (AniList)
Redesigned Season Browser
Related titles can now be viewed for both Anime and Manga on AniList and Kitsu
Bug Fixes and Enhancements
Added additional anime title information for AniList
Fixed View Profile button in the review view when AniList service is used
Season Data is now loaded from the current service.
Tweaked toolbar icon sizes so they are consistent.