While our applications are open source and libre software, meaning you have the freedom to do whatever you want to it. However, it's not free as in beer as in cost. It costs money and time to develop Shukofukurou (Mac and iOS), Hachidori, and others. You may see a reminder dialog when you launch the program or certain features exclusive to users who donated. However, core functionality will be unrestricted.
You can support us monthly through Patreon, which gives additional perks such as access to beta/latest versions for iOS via TestFlight, name added to the list of Patrons and more. Alternatively, you can obtain a donation license or download a full version of Shukofukurou for Mac or iOS.
We no longer accept donations via Paypal. Read this post to find out why.
Patreon
You can support us monthly through Patreon and receive benefits, such as unlocking donor features, exclusive development updates, free major version updates, access to TestFlight (macOS and iOS beta versions) and more.
Become a Patron!
To access Patreon benefits, visit this site.
To see the latest list of active patrons, click the Patrons button on the About dialog.
Shukofukurou (Mac App Store version)
You can donate through the tip-jar feature. To do this, go to Shukofukurou > Leave a Tip. Click the desired amount you want to donate. The tip will be done as an in-app purchase.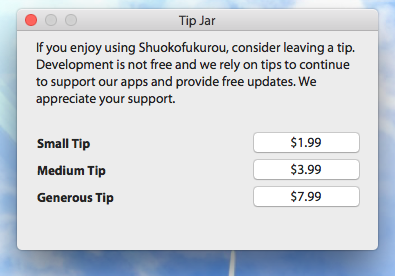 Donation Licenses
If you want to help support the development of Shukofukurou and Hachidori, consider purchasing a donation license. The license allows updates for the current version (e.g .2.x) on multiple Macs for Shukofukurou. Licenses for Hachidori and Shukofukurou for iOS are lifetime licenses and good for all future updates. If you already purchased a donation license and still want to support further development, use the Tip Jar feature on the App Store versions or donate through Paypal or Ko-fi.
Any proceeds will only be used to cover development costs (Apple Developer Program, hosting and domain names). Here is the breakdown for transparency:
Apple Developer Program – $105.56 a year – 8.80 a month
Domain Name and Hosting (to host this site and other REST services used by our apps) – $8.08 a month.
Support Forums (Xenforo License Renewal) 4.58 a month.
Without these, we will have to discontinue development and we rely on donations to cover these costs.
Note that a donation of more than $5 will grant you multiple licenses. For Hachidori, $3. Licenses are eligable for future updates, including major versions and do not expire.
Here is a feature comparsion of the free and donation versions:
Shukofukurou
| Feature | Free | Paid (incl Donations) |
| --- | --- | --- |
| Anime Support | Y | Y |
| Manga Support | N | Y |
| Searching and Browsing of Titles | Y | Y |
| Exporting of Lists | Y | Y |
| Importing of MAL XML Lists | Y | Y |
| Export to CSV/JSONs | N | Y |
| Importing from AniDB/Kitsu/AniList | Y | Y |
| List Statistics | – (1) | Y |
| Person Browser | N | Y |
| View Other's Profiles and Lists | N | Y |
| List Syncing (e.g. Syncing MAL and Kitsu Libraries) (future) | N | Y |
| Social Features (e.g. Kitsu Groups or AniList/MAL Forums)(future) | N | Y |
| Custom Lists (AniList) | N | Y |
| Episode Details (Kitsu) | N | Y |
| Airing Notifications | N | Y |
| Technical Support | Community | Dedicated |
| Cost | Free | $5.00 ($1.99 for MAL Library users) |
(1) Anime List Statistics only
Note: A free upgrade to 3.0 can be requested if you downloaded MAL Library inside Shukofukurou from Mach 1, 2018 onwards. To obtain a free upgrade, Click Add Donation Key on the applications menu and click the Upgrade button.
Hachidori
| Feature | Free | Paid (incl Donations) | Community |
| --- | --- | --- | --- |
| Unlimited Scrobbling | Y | Y | Y |
| Media Player/Web Browser/Streamlink Detection | Y | Y | Y |
| Detection Rules, Title Correction and Ignore Rules | Y | Y | Y |
| Early Access to Beta Versions | Y | Y | N |
| Anime Video File Monitoring (future) | N | Y | N |
| Bittorrent Browser | N | Y | N |
| Video File Mass Renaming Tool(future) | N | Y | N |
| MultiScrobble | N | Y | Y |
| Reminder Message | Y | N | N |
| Compiled Binary | Y | Y | N |
| Technical Support | Community | Dedicated | Community |
| Cost | Free | $5.00 | Free |
Note that self-compiled versions of Shukofukurou and Hachidori other than the official copies (Developer ID or App Store signed) comes with no support. Unofficial copies of these programs may contain malware..
Ways to obtain a Donation License/License Key
Patreon
If you want to help support development monthly, you can support us on Patreon for little as $1 a month and receive a Patreon license. With a Patreon license, you can gain access to all the donor features in Shukofukurou (3.2.6 or later) and Hachidori (3.1.1 or later) and free updates to major versions of Shukofukurou and any other Mac applications we release. Permanent licenses are generated when the life time pledge amount of $10 or more is reached.
Become a Patron!
Fastspring
Fastspring is our primary payment processor. A donation license cost $5 for Hachidori and Shukofukurou and you will be granted access to your license key once the payment is complete. Register using the name entered in Fastspring along with the provided key sent in your email.
Hachidori:    Add to Cart
Shukofukurou:  Add to Cart
Mac App Store (Shukofukurou for Mac only)
You can purchase Shukofukuroufrom the Mac App Store.
App Store (Shukofukurou for iOS only)
You can purchase Shukofukurou for iOS from the App Store.
Update Policy
All updates for Shukofukurou and Hachidori are free including future versions in the 3.x version range. 4.0 will be a major update and the one-time upgrade free will be $1.99 to cover development costs (e.g. Apple Developer Program).
Major updates are free for active patrons.
For Shukofukurou for iOS, upgrades are free for any future versions, including major versions.
I lost my donation key! Help!
If you lost your key, you can retrieve it from your order here. If you did not obtain a key from Fastspring, please send an email to ateliershiori [at] moyit [dot] pro.
Refund Policy
Since donations are voluntary, requests for refunds will not be accepted.