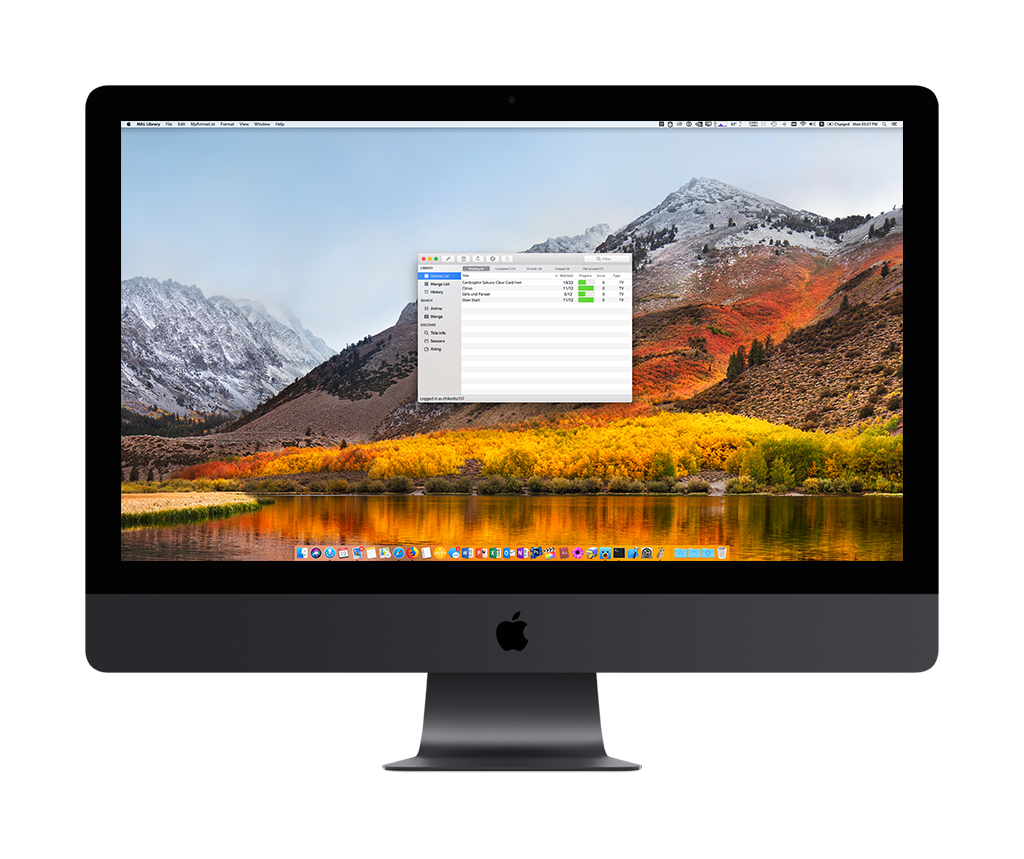 MAL Library is a native MyAnimeList library tracker. You can manage your anime and manga library on MyAnimeList, search for new titles, view information about various anime and manga titles and more.
MAL Library is now End of Life and replaced with Shukofukurou. You can read more about this change here. MyAnimeList Support will return for Shukofukurou in Fall 2019.
View Changelog
Requirements
MAL Library requires a 64-bit Intel Processor (Core 2 Duo or better) running macOS 10.10 or higher. MAL Library is compatible with Yosemite, El Capitan and Sierra.
Features
Manage your library
MAL Library allows you to easily manage your anime and manga list. Update entries, filter them by title and status and add or delete titles. By using the search function, you can easily add new titles.
Note: Manga Support is only in the App Store version.
Explore New Titles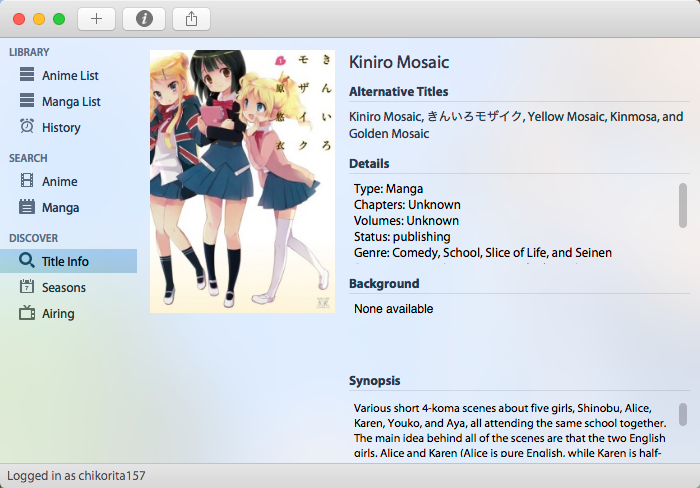 View information about a specific title or browse through current and previous seasons. You can find new titles you can become interested in. You can also view related titles and read reviews.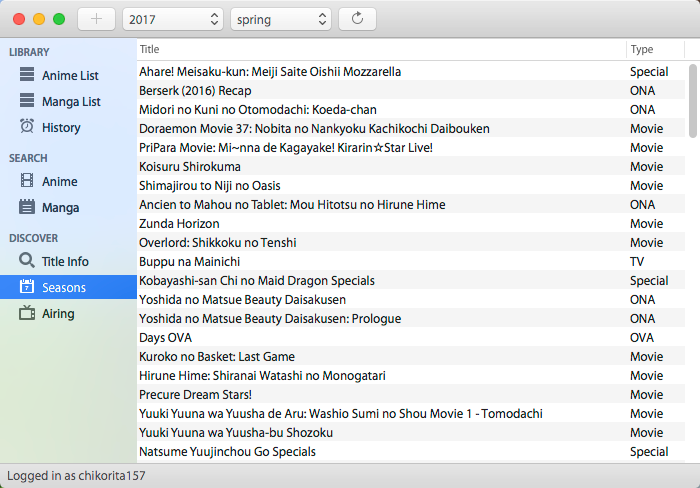 With the built in season browser, you can view titles that aired each year at a given season.
Also, you can look at what shows that are airing for the currrent season with our airing browser.
Easily Migrate and Sync Lists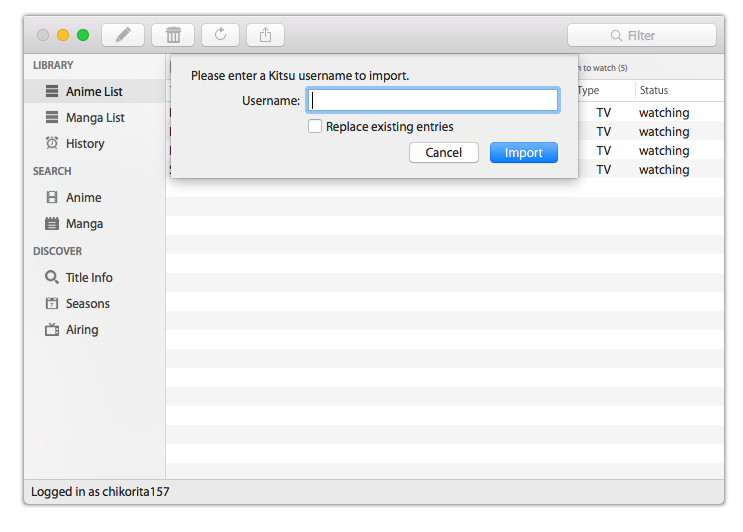 You can now import lists from other list management sites such as AniDB, AniList and Kitsu. For some sites like Kitsu and AniList, you can sync the changes you made to the list over there to your MyAnimeList lists. Also, you can export your MyAnimeList lists as well.
View Statistics on Your List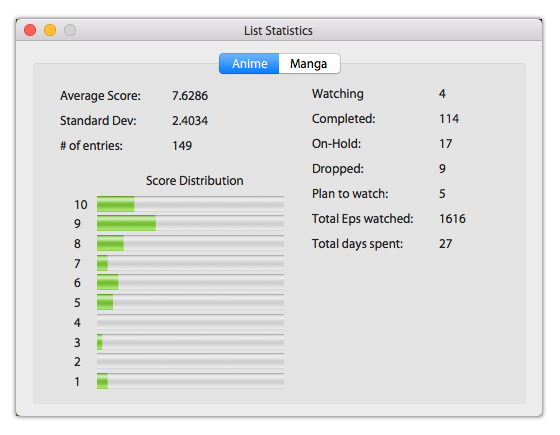 View detailed statistics on your list such as score distribution, current status, amount of episodes watched or chapters/volumes read and time spent.
Note: Free version can only view statistics of Anime List.
MAL Library is now Social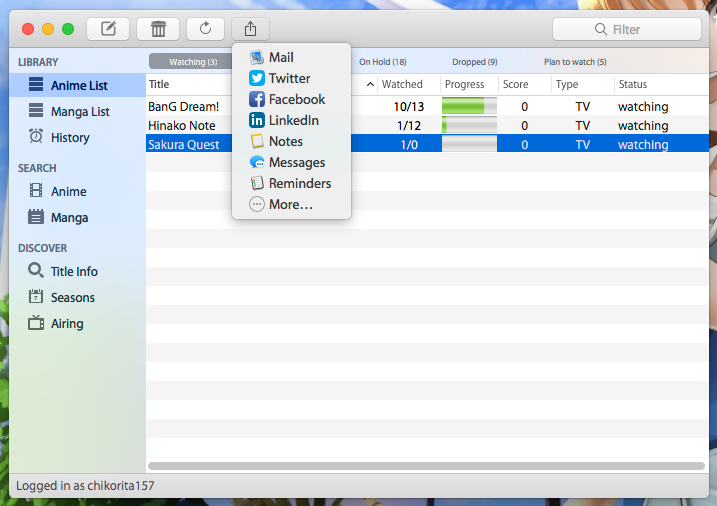 MAL Library now allows you to share your thoughts aabout any title you find or from your list on any social network macOS supports such as Twitter, Facebook, Linkedin, Messages, etc.
In addition, you can view private messages recieved on MyAnimeList and send new messages.
100% Open Source – Free as in Freedom
MAL Library is 100% open source software and licensed under the permissive BSD License. Therefore, anyone to make their own fork or get the source code of the project as long the copyrights and credits remains in tact.
Note that certain classes may have different OSS licenses.