In the past, there was no macOS Application that will allow you to manage your Anime and Manga lists. Managing lists on the web, especially if you use multiple services. Shukofukurou makes it easy to manage your Kitsu, AniList, and MyAnimeList libraries in one place.
List syncing between services is coming at a later date.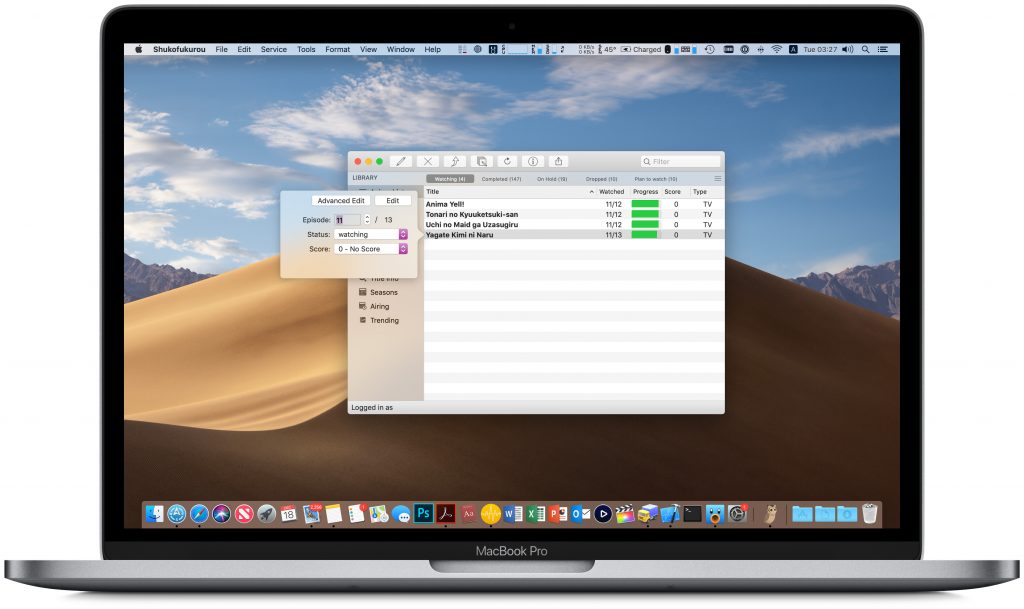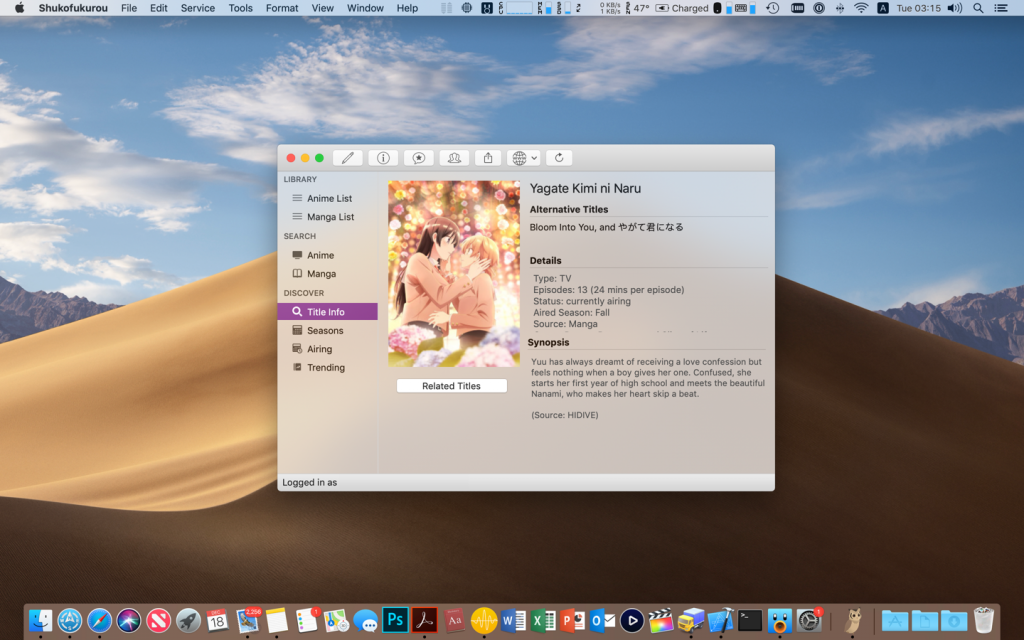 Explore New Titles
View information about a specific title or browse through current and previous seasons. You can find new titles you can become interested in. You can also view related titles, cast information (Anilist only,) and read reviews/reactions.
View Character, Staff, and Voice Actor Information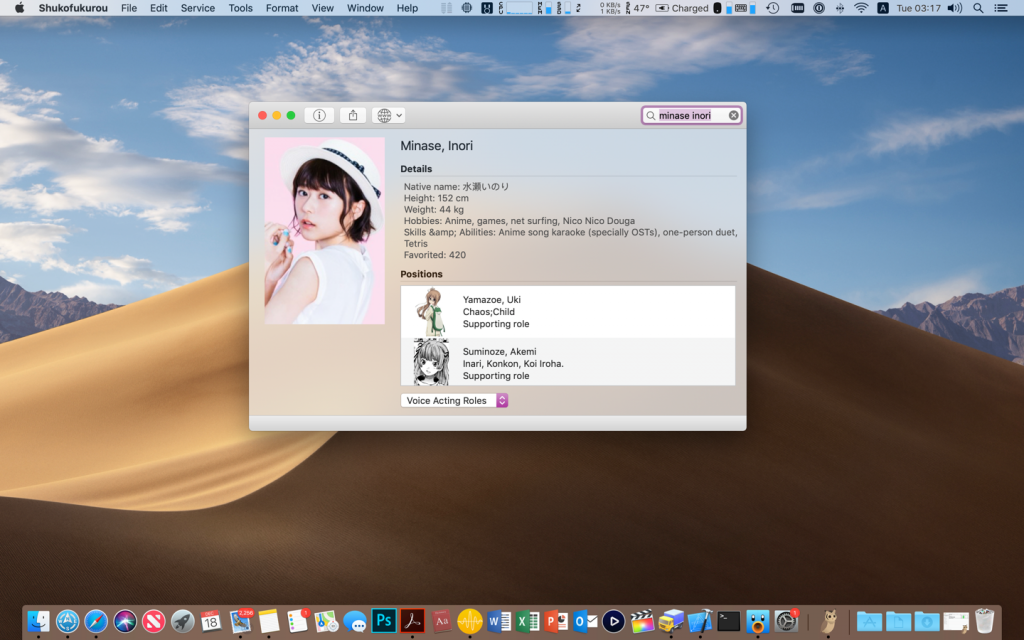 Shukofukurou allows you to browse and search through staff and characters. You can view the character's backstories, appearances, and voice actors information. In addition, you can view detailed information on staff members, manga authors and voice actors.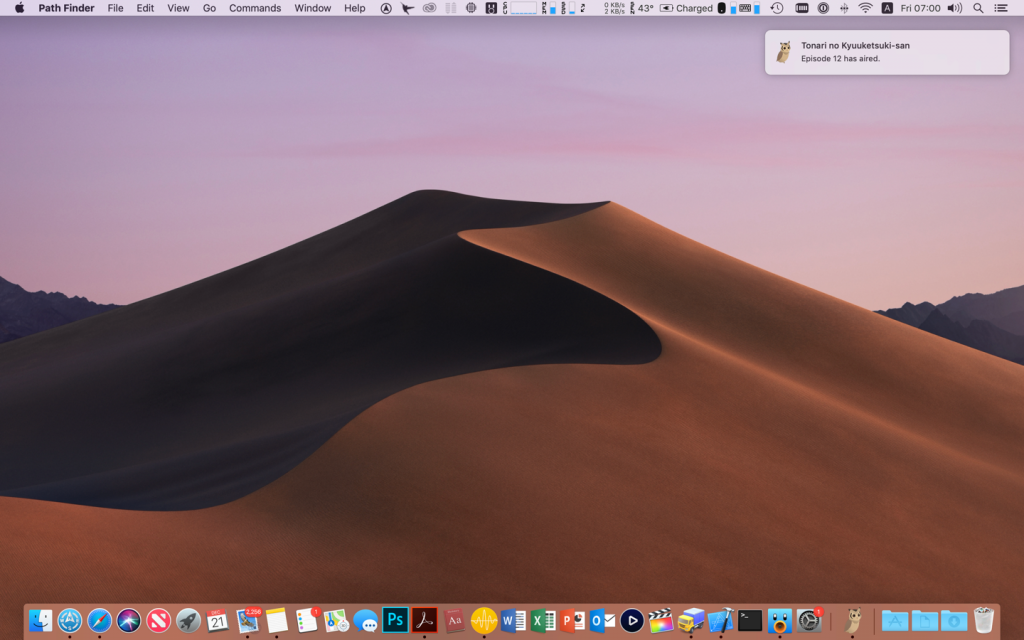 Never Miss an Episode Again
In the past, you have to check the airing schedule to find out what anime is airing on a particular day. With Air Notifications in Shukofukurou, you can receive notifications on when the next episode it airs. You can select which library and which titles to receive airing notifications. In addition, you can view which titles are airing on a particular day.
Note: Full support on AniList, but on Kitsu and MyAnimeList, you may not be able to receive notifications on some titles.
Optimized for Apple Silicon
Shukofukurou for macOS is the only native Anime/Manga list management app on macOS that is optimized for Apple Silicon such as the Apple M1, M1 Pro, and M1 Max. Besides faster updates, this ensures that Shukofukurou for macOS will continue to work on future Apple Silicon Macs for years to come.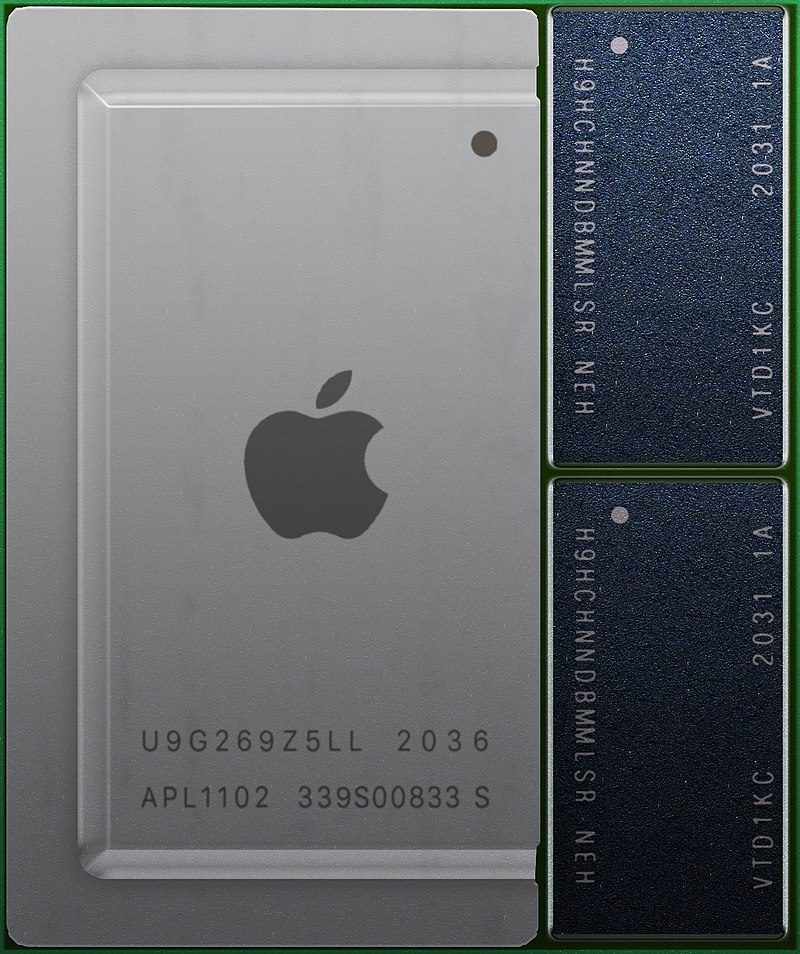 We are Open!
We believe in making our source code open to the public so users can learn how the app functions and also make improvements.
Full Feature List
Manage Anime and Manga Lists
View Update History
Search and Browsing Titles
Featured Titles (New, Trending, Popular, Highest Rated)
Airing Notifications
Exporting of MyAnimeList Lists into MAL XML format
Importing MAL/AniDB/Kitsu/AniList lists
View Title Information on other sites
(Wikipedia/Anime News Network/TVTropes and more)
Custom List Support (AniList)
Customizable Columns in List View
View List Statistics
View Reviews/Reactions for an Anime or Manga
View Cast and Staff Information
Browse Other's Profiles and Lists
Manage Kitsu and AniList lists
Airing Browser
Season Browser
Note: Some features require a donation license or an App Store Version