Note: MAL Updater OS X will not function since the Official MAL API is taken down. Read more here.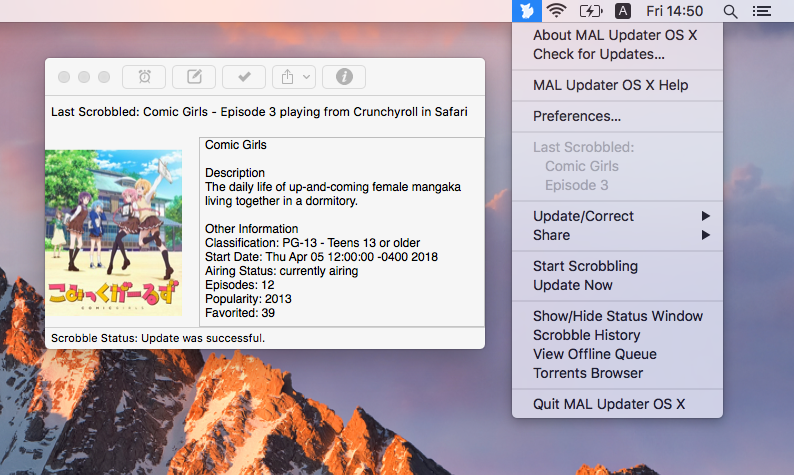 MAL Updater OS X is a MyAnimeList Scrobbler that allows you to automatically update your MyAnimeList Anime Library while you watch anime.
Download    Download Legacy    Download Test Build
MAL Updater OS X requires a 64-bit Intel Processor (Core 2 Duo or better)  running macOS 10.11 or higher. MAL Updater OS X is compatible with El Capitan, Sierra, and High Sierra.Legacy version supports macOS Mavericks and Yosemite.
Save Time by Automatically Updating Your List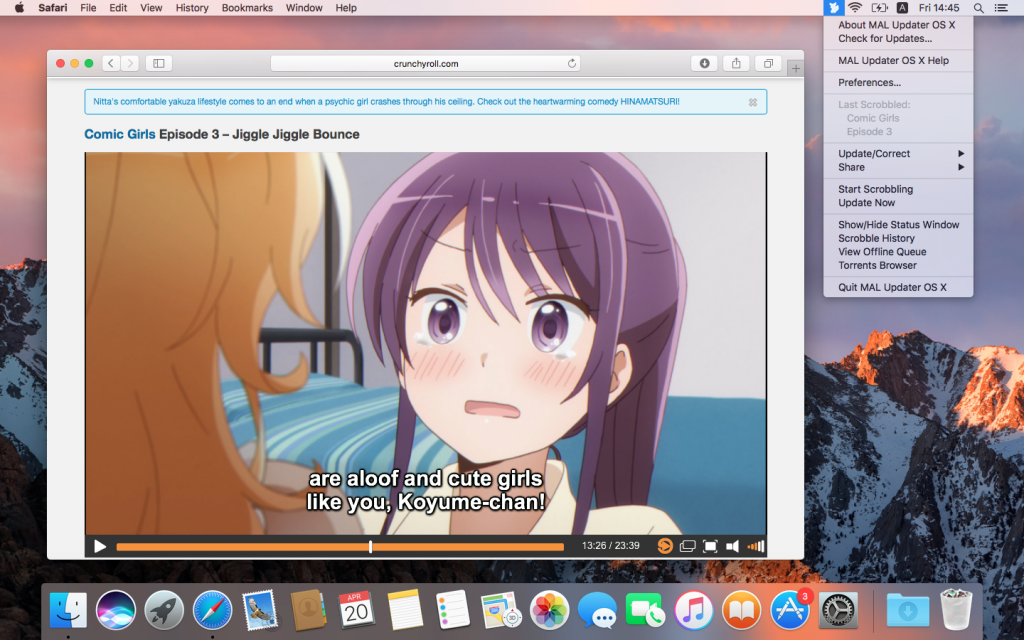 Back in the dark ages, there was no reliable application for macOS that allows you to update your list automatically update your list based on what you watch. Instead, you have to manage your list in the web browser.
Thankfully, those days are gone. MAL Updater OS X will automatically update your list based on what you are watching in your video players and legal streaming sites like Crunchyroll. MAL Updater OS X wil also set start and end dates as well.
Update with Confidence

For new titles, MAL Updater OS X will prompt you before adding the title to your list. This gives you the opportunity to correct the title if MAL Updater OS X detects the incorrect title. You can also create ignore rules to ensure non-anime titles won't get detected by accident.
Wide Legal Streaming Site and Player Support
MAL Updater OS X supports a wide variety of the most popular legal streaming sites including Crunchyroll, Funimation, Hidive, Netflix and more. In addition, MAL Updater OS X supports most video players, including Plex Media Server. The full list is below.
Streaming
Video Players

Amazon Prime Video
AniLab
Anime News Network
Crunchyroll
Hidive
Funimation
MyAnimeList
Netflix
Tubitv
Viewster
Viz
VRV
Wakanim
Yahoo View

Beamer
Kodi
mplayer (e.g. Mplayer OS X Extended, MPlayer, SMPlayerX)
mpv
IINA
Movist
Niceplayer
Quicktime Player
Plex Media Server (Including Plex Web and Plex Home Theater)
Streamlink (Crunchyroll)
Squire
VLC (including VLCX)
Full Feature List
Automatically update your list
Offline Queue
Legal Stream and Player Detection
On demand update
Title correction
Status Window
Sharing Support (including Textual IRC)
Customizable Hotkeys

Update History
Title Rules
Ignore Rules and Directories
Bittorrent Browser
Automatic Torrent Download
Automatically Tweet What You Are Watching
Discord Rich Presence Support
Note: Some features require a donation
Get MAL Updater OS X
Download    Download Legacy    Download Test Build
Note: MAL Updater OS X is donationware. You can use the program for free without restrictions, except a reminder message will show on launch and extra features exclusive for people who donated will be locked.  A donation license costs $4.99.