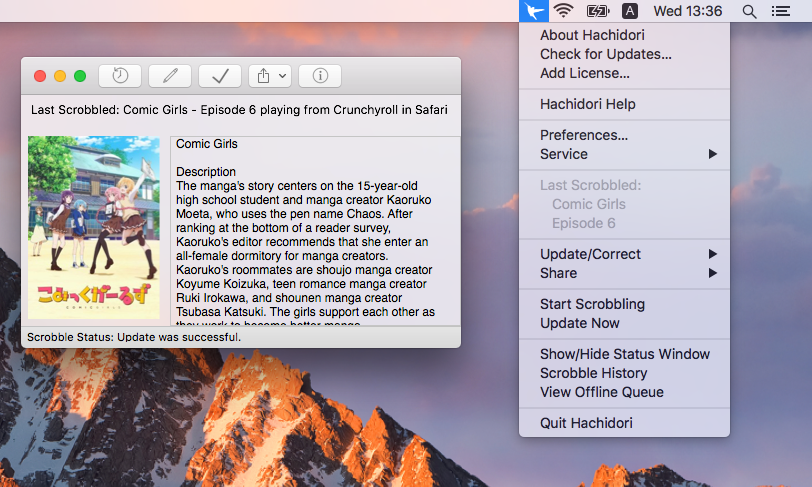 Hachidori is a Scrobbler that allows you to automatically update your Kitsu, AniList, and/or MyAnimeList Anime Libraries while you watch anime.
Hachidori requires a 64-bit Intel Processor (Core 2 Duo or better)  running macOS 10.11 or higher. Hachidori is compatible with El Capitan, Sierra, High Sierra, and Mojave. Hachidori is compatible with macOS Big Sur and Apple Silicon/Universal Binary 2 support coming later this year.
Save Time by Automatically Updating Your List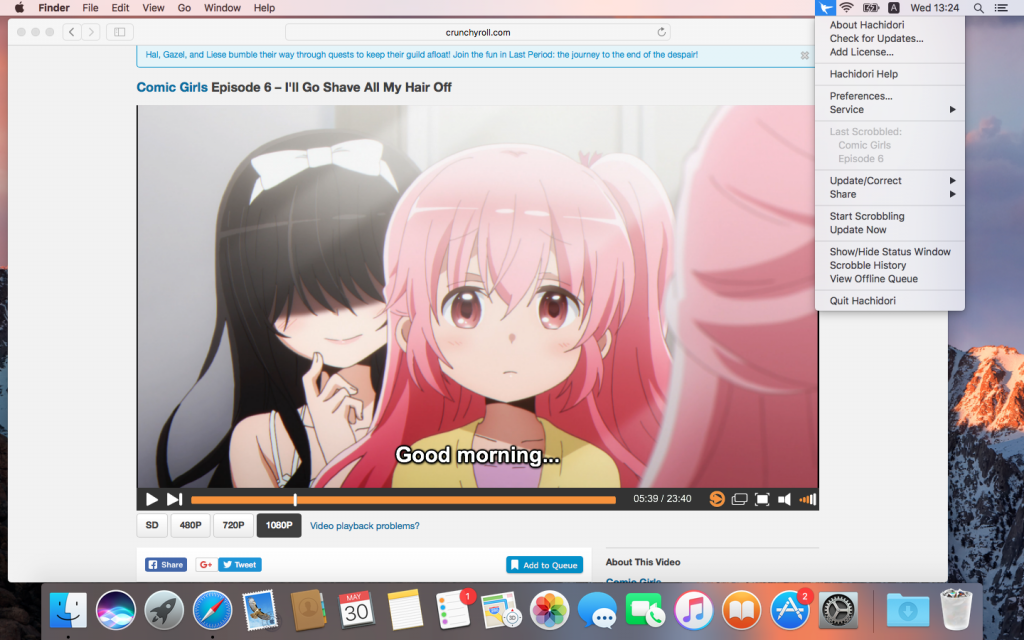 Back in the dark ages, there was no reliable application for macOS that allows you to update your list automatically update your list based on what you watch. Instead, you have to manage your list in the web browser.
Thankfully, those days are gone. Hachidori will automatically update your list based on what you are watching in your video players and legal streaming sites like Crunchyroll. With Hachidori, you will never have to update your lists manually ever again.
You can also update multiple lists from one scrobble. If you use multiple list services, you can update all of them at once using the MultiScrobble feature. (Note: MultiScrobble requires a donation key to use.)
Easy to Set Up
Unlike other AniList, Kitsu, or MyAnimeList programs, there is no need to compile from source code or install additional packages. With Hachidori, you only need to download it, drag it to the Applications folder, add your credentials, and enable Auto Scrobbling or manually perform an update.
Update with Confidence

For new titles, Hachidori will prompt you before adding the title to your list. This gives you the opportunity to correct the title if Hachidori detects the incorrect title. You can also create ignore rules to ensure non-anime titles won't get detected by accident. Hachidori will also recognize titles with strange episode number schemes (e.g. Episode 0) and also auto correct problematic titles.
Wide Legal Streaming Site and Player Support
Hachidori supports a wide variety of the most popular legal streaming sites including Crunchyroll, Funimation, Hidive, Netflix and more. In addition, Hachidori supports most video players, including Plex Media Server. The full list is below.

No Vendor Lock in
When you use Hachidori, you have a choice to use Kitsu, AniList, or MyAnimeList, meaning that you are never locked into using one service. Hachidori will work with any service you choose. Also,  you can switch between them at will. Most importantly, Hachidori is open source.
Full Feature List
Note:
 Some features require a donation
Already have a MAL Updater OS X Donation License?
It's not necessary to obtain a Hachidori license if you already have an MAL Updater OS X license. However, you need an updated license.
If you don't already have an updated license (which will contain letters, numbers and hyphens), you can obtain your updated license key. Download MAL Updater OS X 2.3.17, register using your old donation key. After registering, click the MAL Updater OS X icon on the menu bar and select "About MAL Updater OS X." You should be able to see the new registration key to use in Hachidori.
If you have trouble obtaining an updated license from your MAL Updater OS X Donation License Key, send an email to james_moy@moyit.pro with your registration key and the subject as "MAL Updater OS X Updated License Key Lookup Request" and I can look up the updated key up for you.
Get Hachidori
Note: 3.2 or later is the only release that contains MyAnimeList Support
Note: Hachidori is donationware. You can use the program for free without restrictions, except a reminder message will show on launch and extra features exclusive for people who donated will be locked.  A donation license costs $4.99. All future updates are free once registered. The source code is available for free for all users to compile and run on their devices, but without official support.