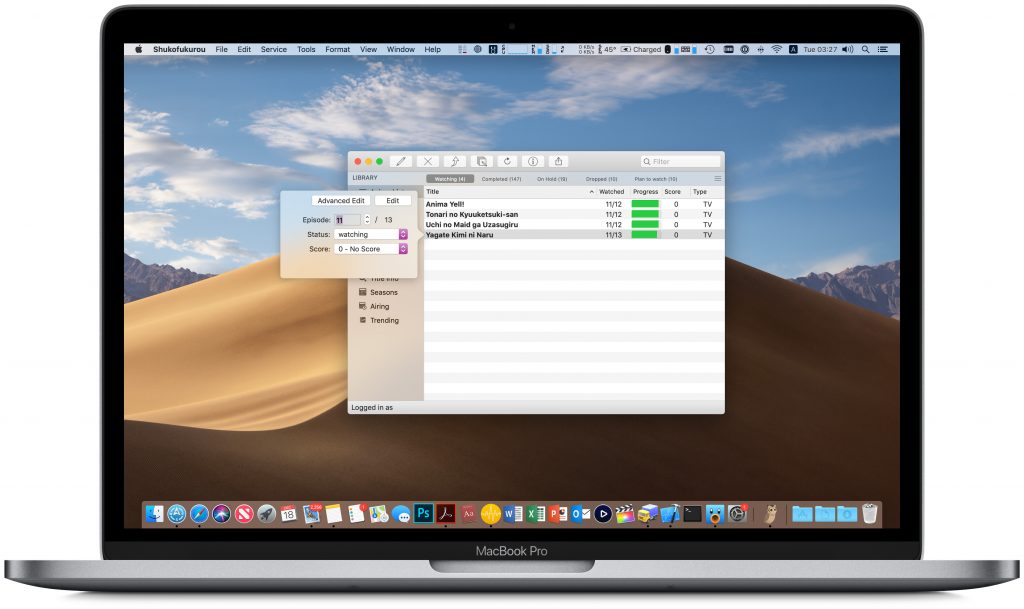 Shukofukurou is an Anime and Manga library management and title discovery application for macOS that allows Mac users to manage their Kitsu, AniList, and MyAnimeList lists in one place.
Shukofukurou is also available on iPhone and iPad.
Download    Download Safari Extension

Shukofukurou requires macOS 10.11 or later and a Kitsu, AniList, or MyAnimeList account. Shukofukurou for macOS is compatible with macOS Big Sur and Apple Silicon/Universal Binary 2 support coming later this year.
The donation amount to unlock features for donors is $5 on FastSpring and the Mac App Store.  for MAL Library users who downloaded earlier than March 1, 2018 is $1.99. Users who downloaded MAL Library on March 1, 2018 or later can receive the app for free. A free version will be available with only Anime support with limited title discovery options. Any donation license or app store purchases are treated as a donation to the project and go towards future development. The source code is available for free for all users to compile and run on their devices, but without official support.
MyAnimeList Support is now available in the 3.4 release.
Manage your Lists in One Place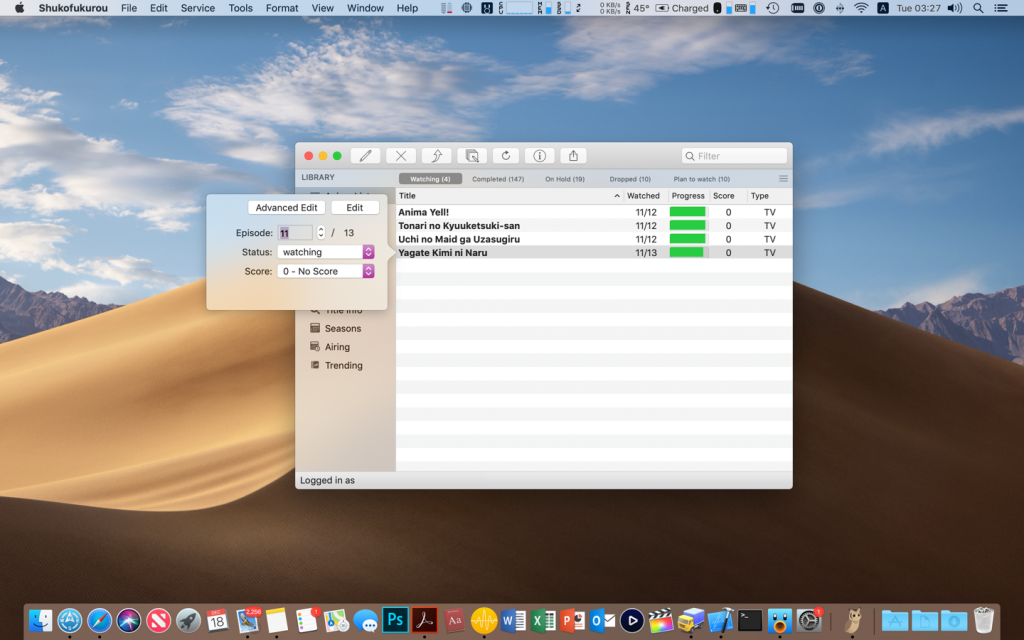 In the past, there was no macOS Application that will allow you to manage your Anime and Manga lists. Managing lists on the web, especially if you use multiple services. Shukofukurou makes it easy to manage your Kitsu, AniList, and MyAnimeList libraries in one place.
List syncing between services is coming at a later date.
Explore New Titles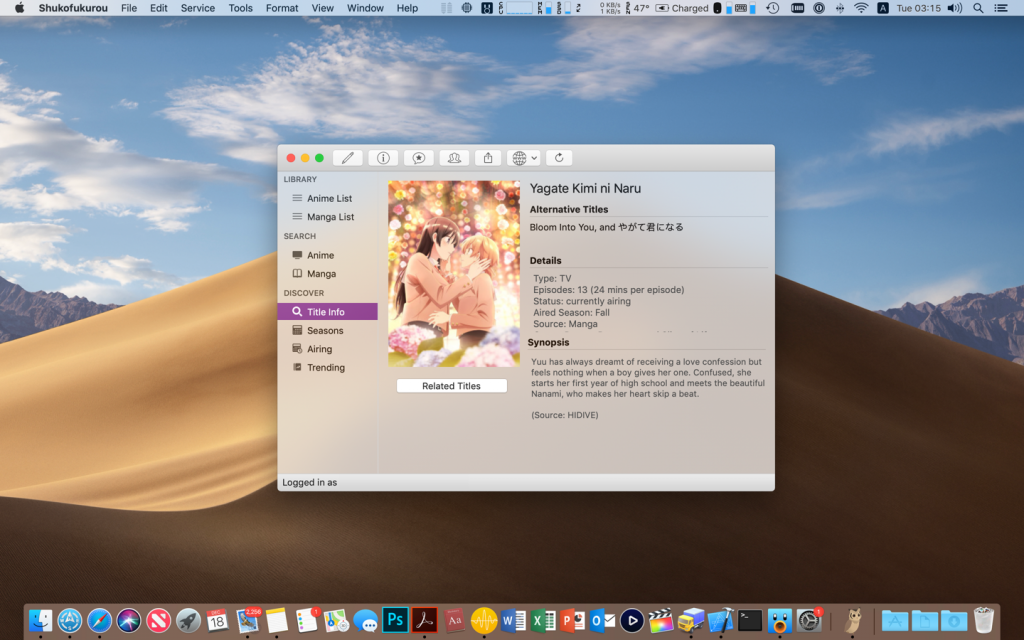 View information about a specific title or browse through current and previous seasons. You can find new titles you can become interested in. You can also view related titles, cast information (Anilist only,) and read reviews/reactions.
Learn More about Characters, Voice Actors and Staff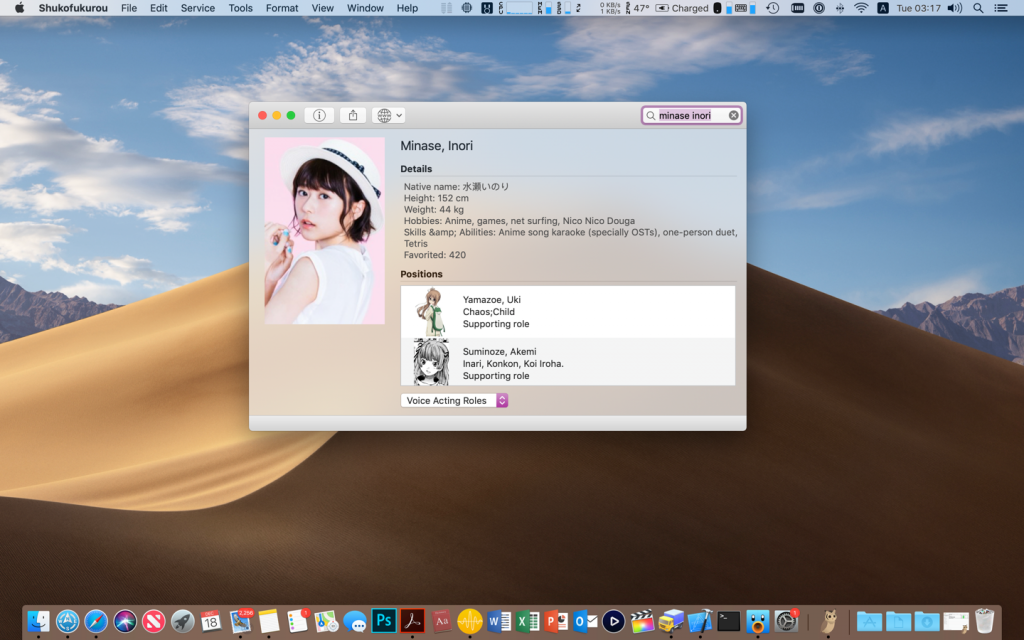 Shukofukurou allows you to browse and search through staff and characters. You can view the character's backstories, appearances, and voice actors information. In addition, you can view detailed information on staff members, manga authors and voice actors.
Never Miss an Episode Again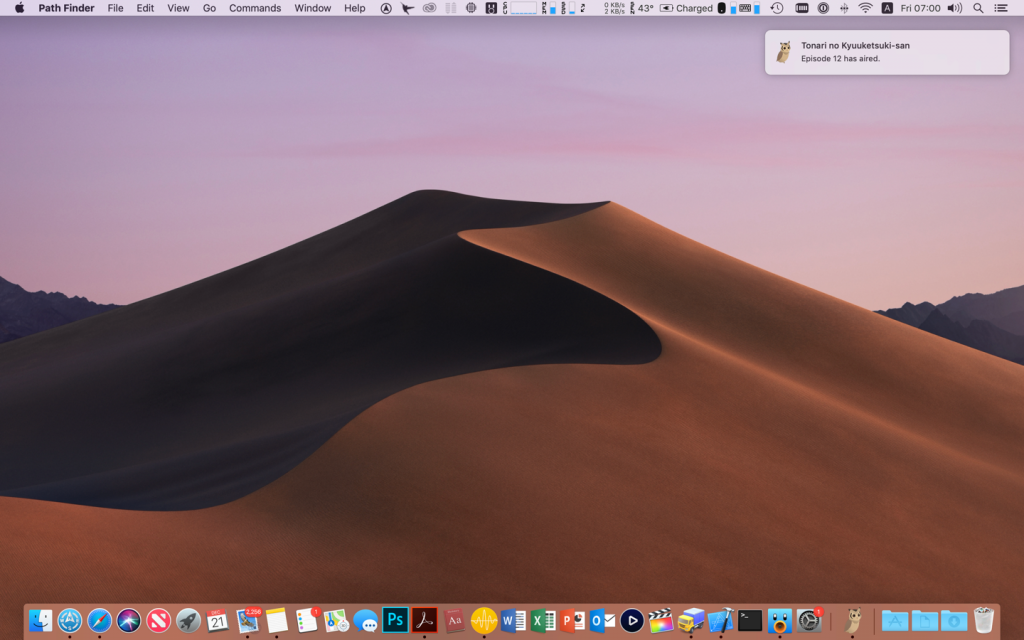 In the past, you have to check the airing schedule to find out what anime is airing on a particular day. With Air Notifications in Shukofukurou, you can receive notifications on when the next episode it airs. You can select which library and which titles to receive airing notifications. In addition, you can view which titles are airing on a particular day.
Note: Full support on AniList, but on Kitsu and MyAnimeList, you may not be able to receive notifications on some titles.
Open Source
We are open source and licensed under a permissive BSD License.
Note: No support will be given for unofficial/self-compiled versions.
Features List
Note:
 Some features require a donation or a Mac App Store version. Restrictions do not apply to self-compiled versions.
Get Shukofukurou
Download    Download Safari Extension