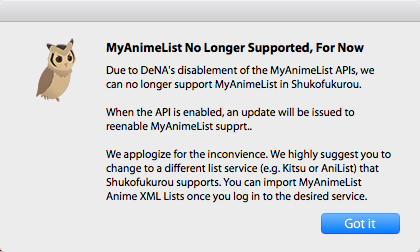 If you heard yesterday, DeNA, the company who owns MyAnimeList decided to kill all third-party applications. With that, we have to remove MyAnimeList support from Shukofukurou temporarily. Since there is no ETA when the MyAnimeList APIs will return, we had to make a hard decision.
Have your voices heard and give DeNA the message that their move is unacceptable and making their site harder to use by moving your list to AniList or Kitsu. You can easily import your list by choosing the Export option when you view your Anime or Manga list.

Download and unzip your list. In Shukofukurou, select your desired service first using the Service menu. To import your MyAnimeList, click Tools > Import List > Import MyAnimeList XML. Select your MyAnimeList list to begin importing. Once it's done, you will be prompted that it's complete. Note that Manga list importing is only available to users who donated.
Our apologies for causing the inconvenience. This is out of our control. Once MyAnimeList APIs return, we will reenable MyAnimeList support.
To update, check for updates. Change log is below.
Bug Fixes and Enhancements
Show message explaining MyAnimeList removal
Remove MyAnimeList Support (temporarily)
Fix MAL ID > AniList ID translation