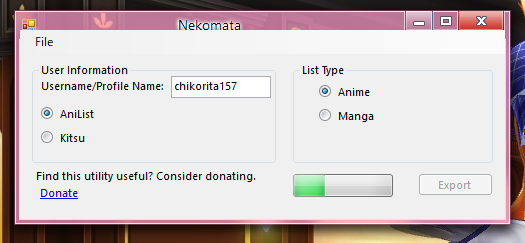 Nekomata is a crossplatform .NET program written that allows users to export their AniList or Kitsu lists to MyAnimeList XML format to import to any list service or use as a local backup.It's free and open source.
Nekomata requires .NET Framework 4.6.2 on Windows or Linux with the mono-complete package installed.
While not required, if you want to support the development of Nekomata, feel free to donate
Changelog
0.0.3 (Released August 1, 2018)
Bug Fixes and Enhancements
Fix crash when the user can't be found on Kitsu
Fix null idMAL issue for Manga List Exporting with AniList
0.0.2 (Released July 23, 2018
New Features
Bug Fixes and Enhancements
List exporting is now faster
series_type XML element now outputs the media format type instead of the type of media (anime/manga)
0.0.1 (Released July 17, 2018)
Initial release.